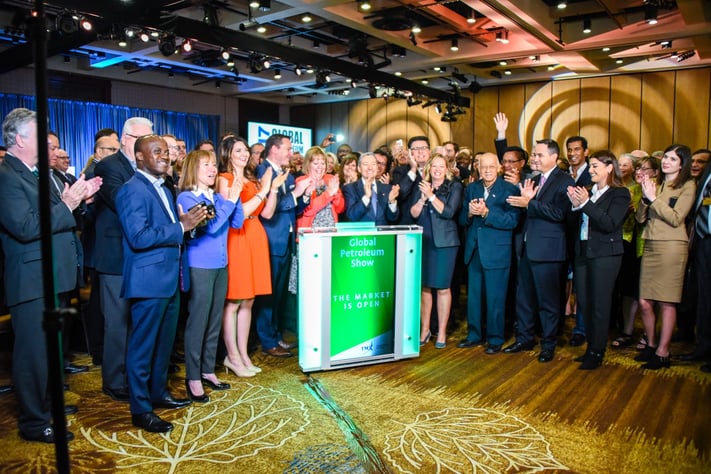 It was an exciting morning at the Energy Leaders Forum as it kicked off with the TSX ringing of the bell at the Hyatt Regency Calgary.
Alberta Premier Rachel Notley told the energy industry Wednesday morning that she has very little time for any conversation that seeks to shut down or significantly limit the province's oilsands.
"The oilsands are a massive job and wealth creator here in Alberta and quite frankly across and throughout Canada. And we need to protect the good jobs that they create," said Notley during a speech at the Energy Leaders Forum of the Global Petroleum Show.
She said the lack of market access means Alberta takes a financial hit on every barrel of oil.
"The twinning of the Trans Mountain pipeline (in British Columbia) gets our economy out of the economic shackles," she said.
Notley stated that her government will be looking closely at the theme and suggestions that will come out from the Global Petroleum Show.
"The ideas generated here will no doubt inform and support our government decisions going forward as we help create good energy jobs, diversify our export markets and reduce our emissions," she said.
"We are tapping into the best and most innovative minds here in Alberta . . . to make sure that our future is prosperous and sustainable."
Notley said her government is working on a made in Alberta response to climate change and under no circumstances will it allow Ottawa to impose a plan on the province.
During the Energy Leaders Forum, Francois-Philippe Champagne, Canada's Minister of International Trade, in quoting Prime Minister Justin Trudeau, said there is "no path to prosperity in Canada that does not include the thriving, vibrant energy sector both traditional and renewable."
"Canada is taking a balanced approach to the development of these resources," he said.
According to the International Energy Agency, oil is going to remain the dominant fuel globally for decades to come even under the most stringent greenhouse gas reduction forecasts, he said, adding that the agency has recognized that Alberta's oil is a key strategic resource that contributes to the economic opportunity and energy security nationally and globally.
Champagne said the federal government is working with all levels of government and industry "to ensure that the oilsands are developed in an environmentally and socially responsible manner."
He said Canada must be prepared for the future when traditional energy sources will be outmatched by renewable resources.
"We are preparing for this day in Canada by actively pursuing renewables and investing more into innovation," added Champagne. "We want Canada to be the leader when it comes to innovation in the world . . . and certainly in the energy sector."
Margaret McCuaig-Boyd, Alberta's Minister of Energy, said the provincial government loves the energy industry and it is the "backbone" of why the province is great. She said Alberta can balance development in the industry with a lower carbon future.