It was another productive GPS that encompassed many discussions regarding the industries future, sharing new technologies and innovations, and networking. Here are some highlights from GPS 2017.
Day 1 - Tuesday, June 13
GPS Awards
Seven companies were recognized Tuesday morning at the Global Petroleum Show Awards for their leadership in driving change and evolution in the energy industry through technology, corporate social responsibility, and excellence. Read more.
The Energy Dialogues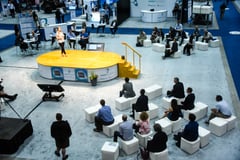 New to GPS this year, The Energy Dialogues featured a breadth of brilliant thought leaders who addressed tough industry questions "There is no doubt the question of how to sustainably and develop Alberta's resources both now and for future generations will drive public policy for many generations", says Brian Jean, leader of the Wild Rose Party. Read more.
Low Carbon Innovation Forum
The Low Carbon Innovation Forum explored ways the petroleum sector can navigate the challenges ahead and find opportunities for development and growth "Alberta has a key opportunity to take the old energy industries and revitalize them into new areas to diversify the economy through the clean tech movement and through other innovations they can take to market," says Laura Kilcrease, CEO of Alberta Innovates. Read more.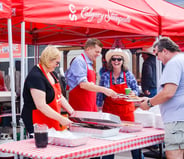 Pancake Breakfast
It was a great turnout for the first GPS pancake breakfast. Brian Jean, MLA, Official Leader of the Opposition Party at Wild Rose joined us and helped serve pancakes!
Country Market Seminar Series
The Country Market Seminar Series featured an impressive amount of countries with representatives from government and private businesses. It kicked off Tuesday morning with the Africa Oil & Gas Forum which had full attendance to discuss business opportunities in Africa. This series also featured the Iran Oil & Gas Forum which was also in full attendance to discuss the opportunities in Iran.
Day 2 - Wednesday, June 14
Energy Leaders Forum
The Energy Leaders Forum generated ideas to inform and support our government decisions going forward. Alberta Premier Rachel Notley told the energy industry Wednesday morning that she has very little time for any conversation that seeks to shut down or significantly limit the province's oilsands. Read more.
The Indigenous Conference on Energy and Mining
The conference was entitled Empowering Connections and took place downtown at the Hyatt Regency Hotel June 14 - 15.The relationship between Canada's indigenous population and the energy industry is likely one of the most important dialogues at the Global Petroleum Show, says an Alberta government official. Read more.
The NextShale Conference
The NextShale Conference took place for two days at the Global Petroleum Show. It recognized the challenges and advancements in the global shale industry and provided insights into how Canada and the United States can be positioned to be competitive players on the global energy stage. Read more.
Memorable Guests
Among the thousands that attended, GPS was pleased to host many special guests including international dignitaries, provincial, and federal ministers. The a-list comprised of Canada's own Hon. Francois-Phillipe Champagne, Minister of International Trade; Roland B. Pablos, Secretary of State for Texas; as well as Salvador Pardo Cruz, Minister of Industries for Cuba. Also in attendance was Hon. Rachel Notley, Premier of Alberta, Hon. Margaret McCuaig-Boyd, Minister of Energy for Alberta, Brian Jean, Leader of the Opposition of Alberta, as well as Daron Bilous, Minister of Economic Development and Trade at Government of Alberta.
GPS Professional Bull Riders Invitational
The annual GPS Professional Bull Riders Invitational was successful in raising over 20K in donations to both STARS Air Ambulance and Ronald McDonald House. Donations included:
$5,400 from EllisDon to STARS
$5,000 from Sanjel Energy Services to Ronald McDonald House
$10,000 from Global Petroleum Show to Ronald McDonald House
Plus, an additional $2,241 raised from the 50/50 draw to Ronald McDonald House
Day 3 - Thursday, June 15
Young Women in Energy Luncheon
YWE hosted the Luncheon Thursday on Committing to Diversity and Inclusion. Speakers were from Fluor and Deloitte who focused on strengths, weaknesses, opportunities, and challenges with their current employee resource group. Read more.
Knowledge Bars
This was another successful year for the knowledge bars with impressive speaker schedules and attendance. Running all three days, the four knowledge bars this year included Clean Technology, Digital Oilfield, Gas Technology Institute, and Water Innovation.
Specialty Zones
The specialty zones this year included Clean Technology, Digital Oilfield, Pipeline, Water Innovation, and Transport & Logistics. All of which provided a platform to bring together industry leaders to discuss new technologies and developments. Particularly, there was a lot of positive feedback on the Digital Oilfield Zone (seen in the picture to the right) that showcased the adversity and ability to adapt to industry change.
We look forward to seeing you next year at the 50th show to "Celebrate the Future of Energy" June 12-14!