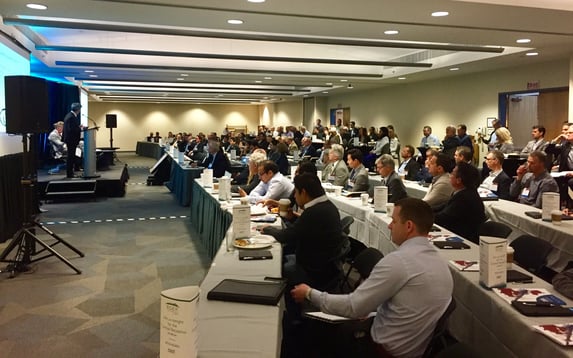 The 2017 Canadian Global Exploration Forum took place September 27 & 28 at the Telus Convention Centre in Calgary Alberta, Here are some highlights from the discussions that took place between an impressive lineup of 54 speakers. For more information please visit cgefconference.com
KEYNOTE: What Will it Take To Fix Exploration?
Julie Wilson, Research Director, Global Exploration - Wood Mackenzie, presented a strong opening for the conference, her data showed that exploration is still the growth engine for exploration companies and showed that deep water exploration continues to have a big impact.
Financing International E&P Ventures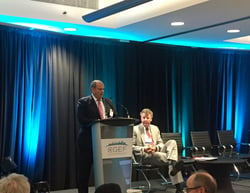 Jeffrey Auld started the Financing International E&P Ventures session with a very powerful presentation. Other speakers included Gregory Stadnyk, Director - BMO, Hugh Sanderson, Executive Managing Director UK, Corporate Finance - GMP First Energy, Gabriel Ollivier, President, CEO, and Director - United Hydrocarbon International Corp and Moderator Martin Molyneaux, Consultant. These guys are real pros who really schooled everyone on the current market and what needs to be done to acquire financing.
International Deal Landscape and Assessment
Speakers included Moderator Marty Wittstrom, Director - CGEF, Mike Lakin, Founder and Managing Director - ENVOI Limited, Jim DuBois, VP, Consulting - 3esi-Enersight. Mike had a tremendous database on deal history and current deals in this low price market. There is strong data to indicate that a turnaround is coming.
Legal Trends in International E&P
Really important legal discussion took place during this session emphasizing the importance of "know before you go". Speakers included Richard Grant, Partner - Growling WLG, Chris Mayo, Head of Primary Markets, Americas - London Stock Exchange, Monica Rovers, Head of Business Development, Global Energy - Toronto Stock Exchange and TSX Venture Exchange and Oivind Amundsen, Executive VP - Primary Market - Olso Bors ASA. And Moderator Alec Silenzi, Director - Canadian Global Exploration Forum.
International Conventional Oil/Gas - What Works
The theme for this session was about rolling up your sleeves and doing the work to understand the country, market, and the details that make the difference in achieving success. Speakers included Moderator David Johnson, Advisor - CGEF, Moderator Art McMullen, Senior Engineering Manager - Sproule, Patou Zeleke, Technical Director, Petroleum - RPS Canada, Peter Putnam, President and CEO - CEP Ltd, Duncan Mackay, Manager of Geosciences - Serinus Energy, Mark Teare, Senior VP of Exploration - Canacol Energy, Gord MacMahon, VP Exploration - Bengal Energy Ltd, and Marty Wittstrom, President and CEO - OGG Investments.
Highlights of Day Two
KEYNOTE: International E&P - Is It Time To Rethink The Business Model?
Dr. Tim Marchant, International Corporate Director and Adjunct Professor of Strategy and Energy Geopolitics - Haskayne School of Business, University of Calgary spoke about how Foreign projects are getting more complicated and will continue to do so. There are stakeholders in areas impacted by projects that typically have not been included in company project plans, but now companies will need to expand the scope of involvement and planning in order to gain wider support for their operations.
Clean Technology - Applications to International E&P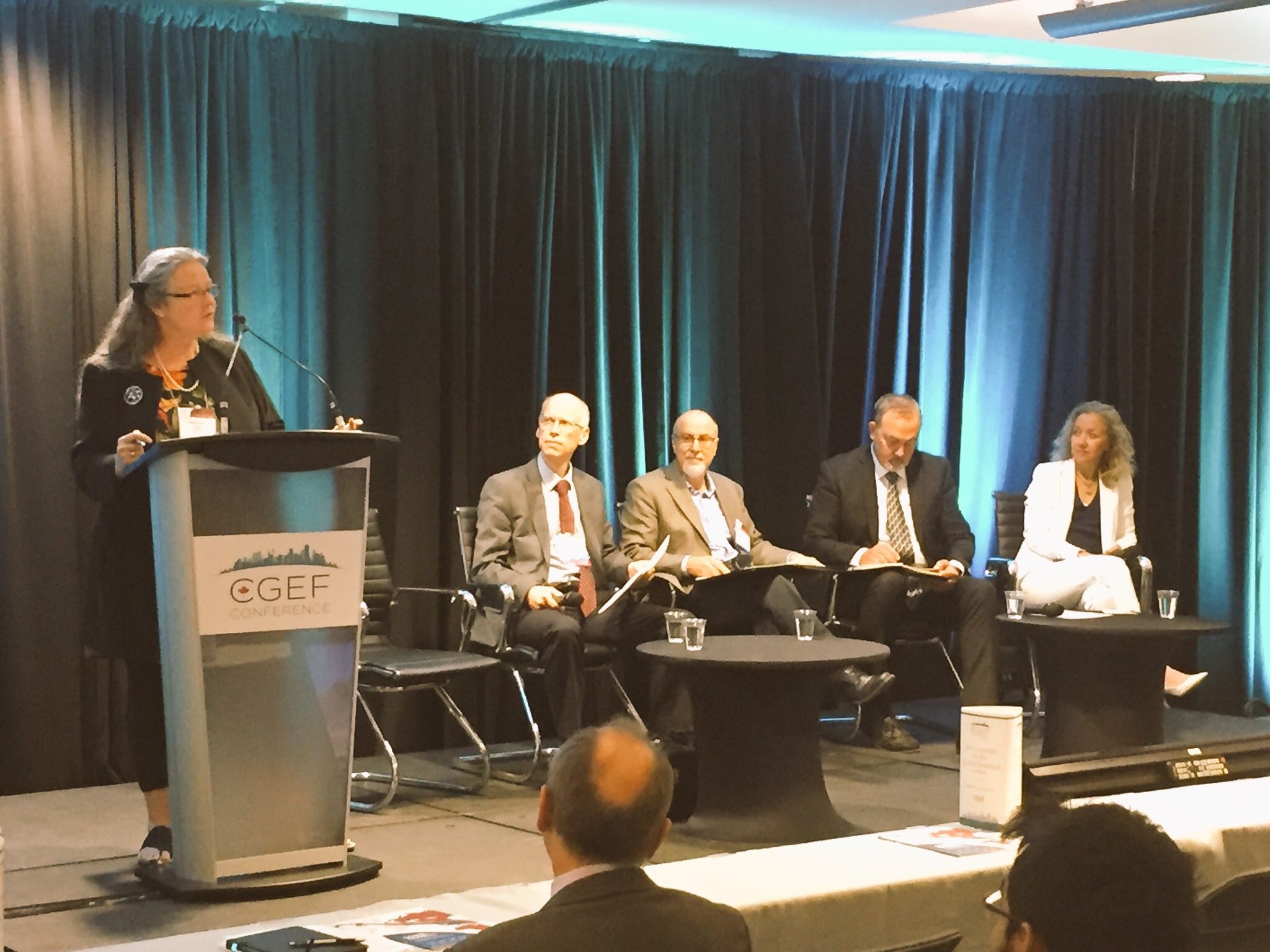 This panel of experts shared visions for using hydrocarbons in ways that look beyond the transportation industry and encouraged the use of elemental carbon and hydrogen in new industries that didn't pollute, create emissions or harm water supplies. Great visions exist, but the means to implement these ideas still requires a lot of work and cooperation. Speakers included Moderator Maggie Hanna, Geologist, President, Technology Scout and Corporate Innovation Coach - Common Grounds Energy Corp, Lee Kruszewski, Executive Director, Science and Innovation Policy and Strategy, Economic Development and Trade - Government of Alberta, Soheil Asgarpour, President - PTAC, Mark Salkeld, President and CEO - PSAC, and Suzanne West, President and CEO - Imaginea.
Clean Technology in E&P - Making It Work
From cleaning the air surrounding oil and gas operations to improving reservoir sweep efficiency, Canadian entrepreneurs have the answers and foreign companies are finding success with these companies. The uptake in Canada seems slow by comparison, however. Better communication of results is needed to break down some barriers. Speakers included Moderator Kevin Matieshin, Project Manager - Pembina Pipeline, Moderator Adele Williamson, Director - CGEF, Audrey Mascarenhas, President and CEO - Questor Technology Inc, Roland DeBruyn, VP pf Engineering - Transworld Technologies Inc, and Warren Dowd, Executive Chairman - ChemWave Inc,
Pursuing International Markets - Opportunities, Barriers and Support Requirements
This panel of experts advised that companies pursing international markets that it won't be easy. It is critical to know the market and to remember that building the needed relationships to be successful take time. Above all, don't compromise your standards to get the contract or when delivering services; it'll only come back to haunt you. Canadian standards are a competitive advantage, so stick to them and you'll do alright. Speakers included Moderator Jim DuBois, VP, Consulting - 3esi-Enersight, Joey St-Pierre, Senior Account Manager - Export Development Canada, Calin Dragoie, VP Geoscience - Chinook Consulting, Bill Mooney, President - Polaris Seismic, and Krisztina Howery, VP of Business Development - Sproule.
International Unconventional Oil/Gas - What Works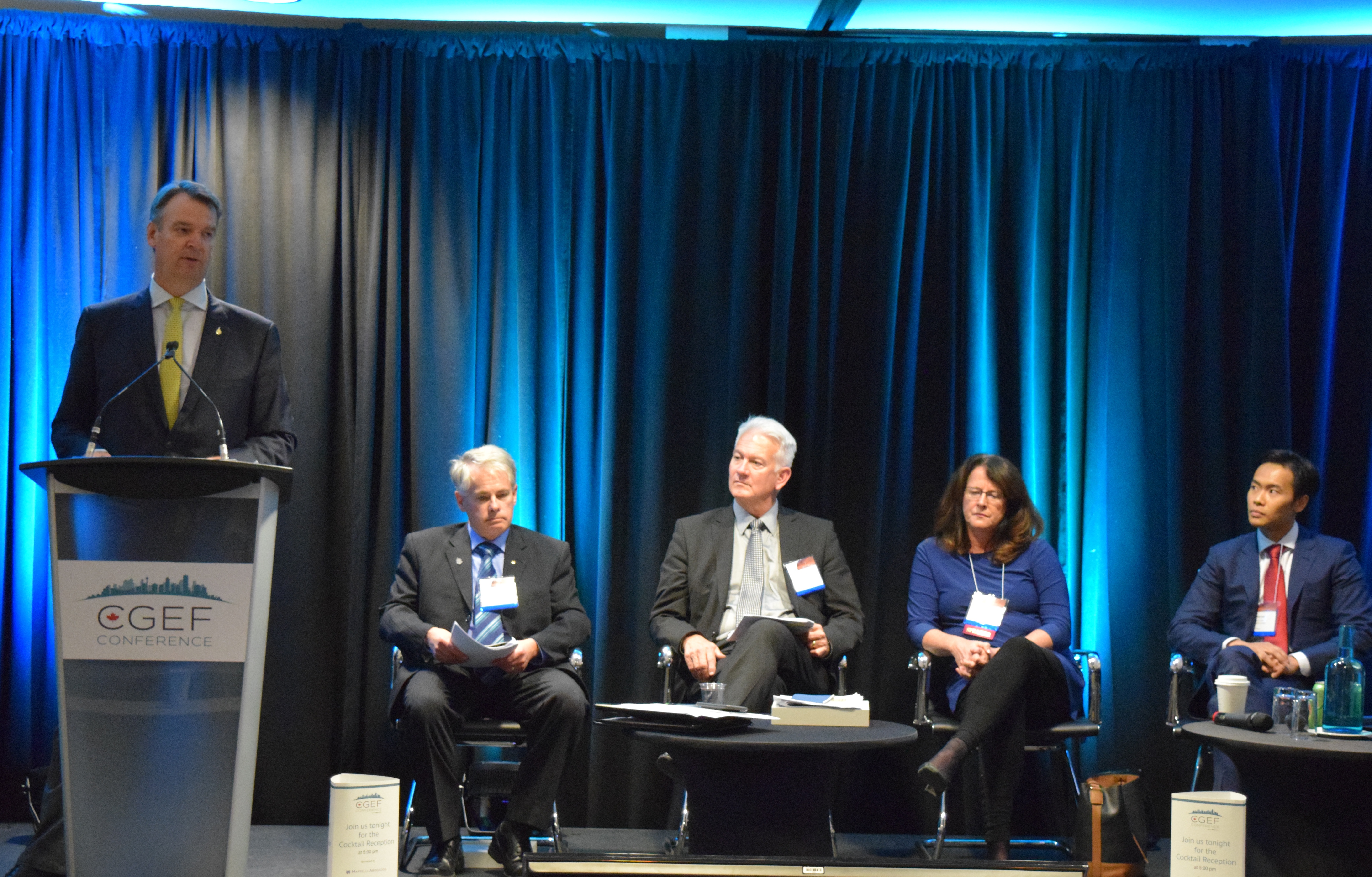 The panel discussed new shale oil plays on the horizon, the conditions on the ground, and the availability of the equipment needed. Will the next unconventional play be in Argentina or Mexico? Both areas pose opportunities and challenges for those who dare to pursue the next big play. Speakers included Moderator Scott Gardiner, Director - CGEF, Moderator Dr. Brad Hayes, President - Petrel Robertson Consulting Ltd, Barclay Hambrook, President - ApecTec Inc, Dr. David Hodgson, Sector Specialist, Energy - UK Department for International Trade, John Gorman, Area VP of Canada - Halliburton Group Canada, Cam Boulton, VP, McDaniel International - McDaniel & Associates, and Kathleen Dorey, Managing Partner - Petrel Robertson Consulting Ltd.
International Deal Landscape and investment - Day 2
A detailed look at world-wide deal flow signals an uptake in activity might be coming. Companies have taken big stakes in shale plays, but there is a question as to just how much money they are making. Companies are returning to conventional plays because exploration is still be best engine for growth. Speakers included Moderator Marty Wittstrom, Director - CGEF, Chris Moyes, President - Moyes & Co, and Monica Rovers, Head of Business Development, Global Energy - Toronto Stock Exchange and TSX Venture Exchange.